​Degree Elevation and Knot Insertion

Increasing polynomial degree by p-refinement is an improvement to the basis, but continuity remains the same as in the coarse mesh. In order to improve this aspect, k-refinement was introduced by Hughes. The basic idea is that, after p-refinement, h-refinement can be applied in order to create basis functions of Cp-1 continuity. This is a powerful tool that can lead to greater convergence rates for our models.

After p-refinement, internal knots still possess C1 continuity. Note that only two basis functions are non-zero across every knot. After h-refinement, two new C2 continuity knots are introduced. Three B-SPLine basis functions are non-zero across these knots, ξ=2.5 and ξ=3.5. This way, greater levels of continuity for the new polynomial order are utilized.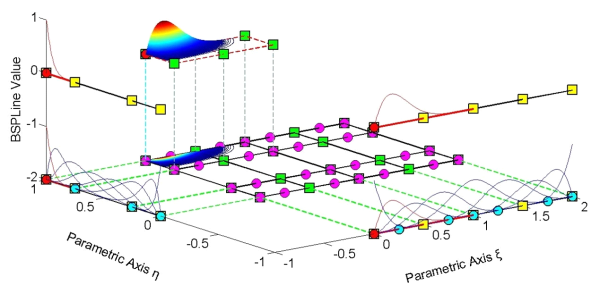 In figure 3.12, the application of k-refinement for a surface is represented. In fact, h-refinement is performed after the p-refinement of figure 3.7. When p-refinement is applied, continuity of the internal knots is still C2. After h-refinement, continuity of the additional control points in axes ξ, η is increased to C3 and C4 respectively. This augmentation of the continuity has proven to be very helpful for the analysis.